Formation continue

Nos opérateurs
S.HE Goes Digital – IT essentials: key concepts & opportunities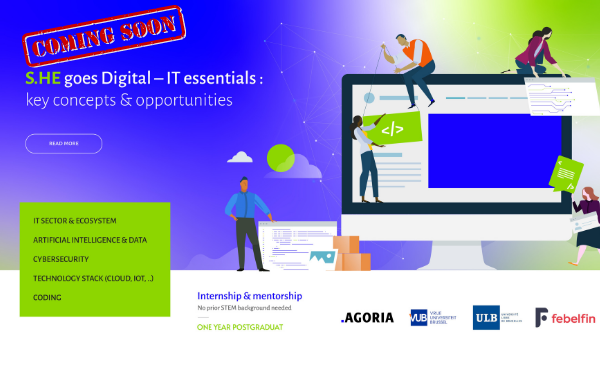 Give enough holistic IT culture so women have less fear to enter IT and become bridge builders, while making hiring managers more comfortable with hiring women."
While this training is intended to ensure more women graduate in the digital sector, we also value inclusiveness and diversity greatly. So F/M/X, all welcome to apply for admission!
Training programme


MODULE 1 - Foundations (coord. Jean CARDINAL)
• Computational thinking/philosophy
• Programming
• Problem-solving
MODULE 2 – Technology (coord. Yifan YANG)
• Intelligent hardware
• Developing a starter-level sensor system with Arduino platform
• The technology stack incl. infrastructure (vert.)
• Cloud, XaaS, encryption & PKI, tooling
MODULE 3 – AI & data (coord. Johan LOECKX)
• AI & data mindset
• Responsible innovation with AI
• Assessing readiness
• Impact
• Opportunities & Limitations
• Trends & applications
• Case study project
MODULE 4 – Cybersecurity (coord. An BRAEKEN)
• Data protection and data security
• Cybersecurity basics
• Network security
• SW security
• Risk management
MODULE 5 – IT Sector / organisation (coord. Valentin DIRKEN)
• Roles, stakeholders & departments
• Ecosystem (market, incl. startups)
• Open Source movement
• Legal, Ethics & IP related issues
MODULE 6 – Methodologies (coord. An JACOBS)
• General introduction to the methodologies used in software companies
• Interdisciplinary collaboration and personality profiles
• Business aspects of IT products C
• Design thinking and requirement gathering
• Product management
• Software development
• UI design (styleguides, UI dev tools, mobile apps, …)
• Feature or product launch (marketing, implementation, evaluation,...)
• Technical documentation
• External funding
MODULE 7 – Solving real-world issues using digital (coord. Marie-Mo VAEYENS)
• Real-world applications in STEM fields
• Real-world applications in non-STEM fields
• Professional IT role models f/m/X
INTERNSHIP – IT internship (optional)

Sign up for updates
*Programme en cours de procédure d'agrément
*Program in the process of accreditation

Contactez-nous !